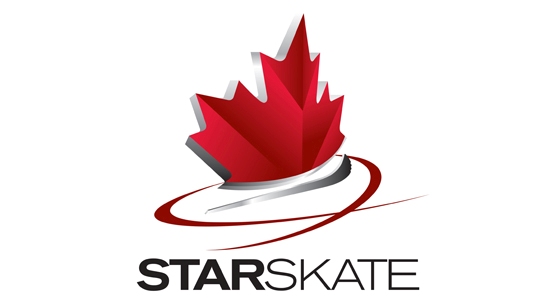 2019-2020 Program Schedule
Monday, Sept 2 – Friday, Dec 20, 2019
Sunday, Jan 5 – Friday, April 24, 2020
There is NO break for Teachers' Convention, Spring Break or Easter
Please note the following Monday morning time changes:
Labour Day, Sept 2 (7:00-9:00 am)
Thanksgiving Day, Oct 14 (7:00-9:00 am)
Family Day, Feb 17 (7:00-9:00 am)
Please note the following Friday morning time change:
Good Friday, April 10 (7:00-9:00 am)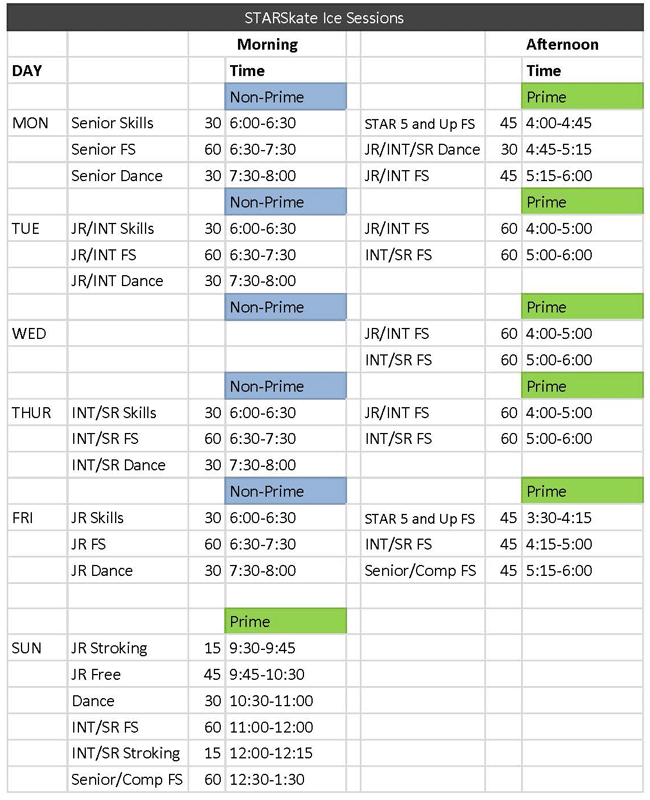 Qualifications for Freeskate Ice Sessions
The qualifications for all freeskate ice sessions are based primarily on the skating test qualifications as well as the availability of the coaches' times to provide lessons.
Junior: STAR 1-5 (working on STAR 1-5)
Intermediate: has passed STAR 5 Freeskate (program and elements) or Senior Bronze FS in the old system. (working on STAR 6)
Senior: has passed STAR 6 Freeskate (program and elements) or Pre-Juvenile and Junior Silver in the old system.
STARSkate
Skills, Tests, Achievement, Recognition – this is what STARSkate is all about!
STARSkate offers opportunities for skaters of all ages to develop fundamental figure skating skills in the areas of ice dance, skating skills, free skate and interpretive skating. Unique in Canada, this program teaches figure skating skills in a private lesson format in a progressive and sequential manner and includes specifically designed awards and incentives. Skaters have the opportunity to take Skate Canada Tests through a nationally standardized testing system. Skaters who have mastered figure skating skills in STARSkate may also choose to pursue synchronized skating or pairs skating.
Non-Prime Ice (Morning)
It is mandatory for each skater (with the exclusion of those that have passed 3 of the following 4 disciplines: GOLD Dance, GOLD Skills, GOLD Freeskate or GOLD Interpretive (Artistic) otherwise known as TRIPLE GOLD) to purchase one hour and a half (1.5 hours) of non-prime (morning) ice (whether the skater skates on it or not).
An exception is made for Pre-STARSkate skaters that are only "trying out" if they remain registered in the Pre-STARSkate program and are only adding on STARSkate session(s).
Program Fees
Membership Fees:

Lake Bonavista Community Association (LBCA) membership fee/per family - $30 (non-refundable).If you have already paid through another program at the Rec. Centre you will receive a credit on your account with the LBFSC once we have confirmed with LBCA. Purchasing a LBCA membership helps Lake Bonavista be a vibrant and sustainable community and supports the day-to-day operations of the community association. Memberships are valid from July 1 to June 30 and expire yearly.
Lake Bonavista Figure Skating Club (LBFSC) membership fee/per family - $50 (non-refundable)
Skate Canada Membership fee/per registrant - $44 (non-refundable and non-transferable)

Please note that your skater information will be shared with Skate Canada through this website.

This fee does not stay with the club but is sent on to Skate Canada in Ottawa. For more information about Skate Canada, visit www.skatecanada.ca.
Ice Fees:
Non-Prime Time - Morning ice excluding Sunday (less expensive)
Prime Time - Afternoon ice and Sunday (more expensive)


Coaching Fees:
Before you register, youmust have a Professional Coach.
Private (Private lessons are when a skater books a 10-15 minute lesson, one-on-one with a Professional Coach).
Contact a private coach on our Coaches page of the website.
The Professional Coach will invoice each family for private lessons.
Each family is required to meet the volunteer and fundraising requirements for the skating season starting June 1 to May 31. This includes Spring School, Summer School and Fall and Winter sessions. Read more...
These Policies and Guidelines apply to all STARSkate and CompetitiveSkate skaters for the 2019/2020 fall/winter sessions. All dates set forth in this document apply to all skaters regardless of the date of registration. Read more...
ALL FEES ARE QUOTED IN CANADIAN DOLLARS