Welcome to the Lake Bonavista Figure Skating Club!
A Proud Member of Skate Canada for over 40 years!
Programs are run per current Skate Canada Program Delivery Standards
WE WELCOME FAMILIES FROM ALL COMMUNITIES IN AND AROUND CALGARY!
The 2019-2020 Skating Season has been CANCELLED until further notice!

---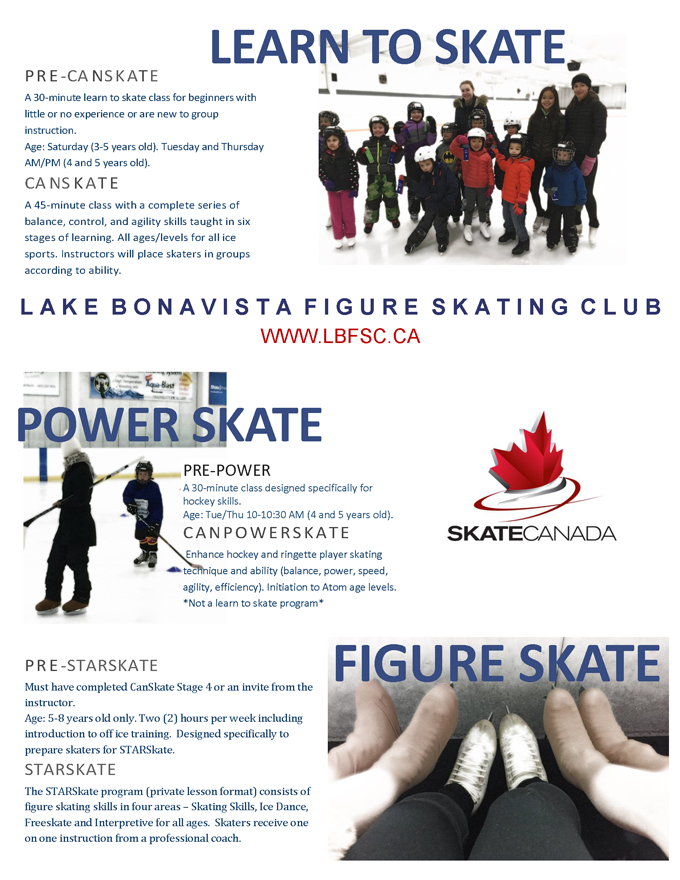 ---
We offer learn to skate programs called Pre-CanSkate and CanSkate. Hockey programs called Pre-Power and CanPowerSkate and figure skating programs called Pre-STARSkate, STARSkate and CompetitiveSkate all sanctioned by Skate Canada.

Skate Canada Skating Programs are designed to allow individuals to participate in skating for life. Our programs provide participants with basic skating skills, advanced figure skating techniques, test and competitive opportunities, awards and incentives and the chance to learn new skills in a fun and positive environment.
We also offer a Spring Skating School in May/June and a Summer Skating School in July/August.
Our professionally trained and certified NCCP coaches have coached Provincial Champions, Challenge Competitors and National and International Competitors.
Our club is run by dedicated parent volunteers who provide their knowledge, skills and precious time to ensure our skaters reach their full potential at every level.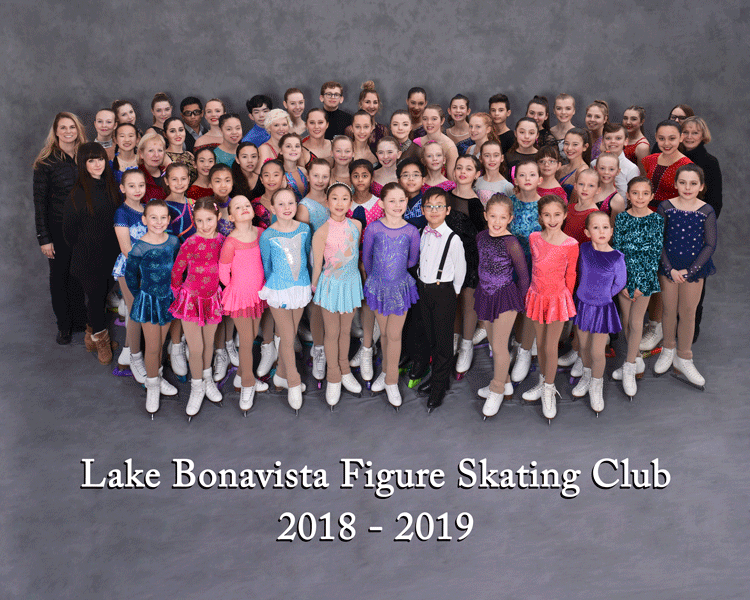 Our STARSkate and CompetitiveSkate athletes and coaches
CanSkate Program Assistants
Program assistants are an important component of our very successful CanSkate program. They assist the Skate Canada coach in delivering the best CanSkate program on‐ice and off‐ice.
They are good communicators and demonstrators, enthusiastic and good role models; responsible, punctual and patient; prepared and organized; and able to lead groups, encourage skaters, and keep them moving while having fun!
Public Skating at the Rec Centre
TUESDAYS 2:30 – 3:30 pm
THURSDAYS 2:30 – 3:30 pm
FRIDAYS 2:30 – 3:30 pm
SATURDAYS 3:15 – 4:15 pm
PLEASE NOTE: Free for Lake Bonavista Community Members. Non-Members $5 per person.
Private Instruction is PROHIBITED during Public Skate Hours.