Please Visit our "COVID-19 Update" page for the latest information.
NEW day added to CanSkate Spring Academy - Thursday - 5-5:45 PM (Small Ice)

Pre-CanSkate
The Pre-CanSkate program is an unparented program designed for children 4 to 5 years of age, who have never skated before or who are not yet confident on the ice. This program teaches children the basics of how to get up when they fall down, how to move forward, basic backward movement and how to stop.
Lessons are taught by Skate Canada Certified Professional Coaches and trained Program Assistants in a group format so children must be somewhat independent and not require one-on-one supervision.
These sessions are shorter in length to accommodate the younger skater. Skaters will learn in an energetic, fun environment using skating aids and toys with the goal of having fun. If your child is able to focus for 30 minutes in a group setting under the direction of the coach, then he/she could give it a try at 3 years old.
We accept 3 year olds in our Saturday program only. Skaters should be able to participate without a parent on the ice.
What do you need to participate?
All you need are skates (we DO NOT recommend "Adjustable or Expandable" skates), a CSA-approved hockey helmet with a cage is mandatory, long pants, mittens, warm sweater or jacket. Dress in layers – it may get warm! Please read Skate Canada's helmet use policy.
CanSkate
CanSkate is a dynamic learn-to-skate program that focuses on fun, participation and basic skill development. Based on Sport Canada's long-term athlete development (LTAD) principles, CanSkate centers on physical literacy and the fundamental skills needed to take part in any ice sport or to skate as a recreational activity.
Who's it for?
***

All participants must be 5 years old and have some skating experience. ie: be able to skate the length of the ice and be able to fall down and stand up on their own.

***
If your child has skated with our club in previous years and is below the current age limit, contact us to register! - info@lbfsc.ca
CanSkate is for those wishing to improve their basic skills whether their focus is for figure skating, hockey, speed skating or just skating for fun.
Who teaches it?
NCCP-trained professional coaches, assisted by trained program assistants.
What will you learn?
A complete series of balance, control, and agility skills taught in six stages of learning that pertain to hockey, ringette, speed skating and figure skating as well as general recreational skating. CanSkate uses nationally-tested and proven curriculum and delivery methods that guarantee skater success in developing stronger basic skills and developing them faster.
What can you expect?
Action, movement, and fun! Lessons are given in a group format with a coach-to-student ratio of a maximum 1:10. Skaters progress at their own rate and coaches make sessions active using teaching aids, upbeat music and a wide variety of activities that create a motivational environment and promote learning. Badges, ribbons and other incentives are used to benchmark skaters' progress.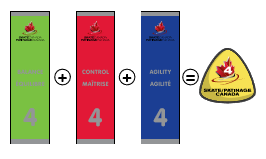 Schedule
Please note that some ice times may be canceled and/or changed to accommodate the number of skaters registered.
Register
Registration opens Monday, August 24, 2020
2020-2021 Season
Location: Small Ice Surface
Fall Session | Sept 22 - Dec 12, 2020

Winter Session | Jan 5 - Mar 27, 2021

CANCELLED

Tuesday/Thursday
9:00-9:30 AM WINTER
9:30-10:00 AM FALL
9:45-10:15 AM WINTER
1:00-1:30 PM WINTER
1:30-2:00 PM Thursday ONLY FALL
1:45-2:15 PM WINTER
4:15-4:45 PM
5:00-5:30 PM
5:45-6:30 PM
Wednesday
4:00-4:45 PM
4:45-5:30 PM
Saturday
11:00-11:45 AM
12:00-12:45 PM
DISCOUNT: If you choose the full year (Fall and Winter Session) or skate twice in a session (Fall or Winter), you will automatically receive a 20% discount.
Make-Up for Missed Classes: Skaters sign up for a specific session and cannot be accommodated on another session if they must miss a day for any reason unless pre-arranged with a coach.
If your child has skated with our club in previous years and is below the current age limit, contact us to register! - info@lbfsc.ca
ALL FEES ARE QUOTED IN CANADIAN DOLLARS