You may….Skate alone. Skate in pairs. Skate with hundreds. Skate for fun. Skate to win. Skate to travel. Skate to exercise. Skate to excel. Skate to relax. But you'll always… #SkateWithUs.
Top Content Title
This is an additional section to be able to add content
CanSkate
CanSkate is a dynamic learn-to-skate program that focuses on fun, participation and basic skill development. Based on Sport Canada's long-term athlete development (LTAD) principles, CanSkate centers on physical literacy and the fundamental skills needed to participate in any ice sport or skate as a recreational activity.

Who teaches it?
NCCP-trained professional coaches, assisted by trained program assistants (PA).
What will you learn?
A complete series of balance, control, and agility skills are taught in six stages of learning that pertain to hockey, ringette, speed skating, figure skating, and general recreational skating. CanSkate uses nationally-tested and proven curriculum and delivery methods that guarantee skater success in developing stronger basic skills and developing them faster.
What can you expect?
Action, movement, and fun! Lessons are given in a group format with a coach-to-student ratio of a maximum of 1:10. Skaters progress at their own rate, and coaches make sessions active using teaching aids, upbeat music, and various activities that create a motivational environment and promote learning. Badges, ribbons and other incentives are used to benchmark skaters' progress.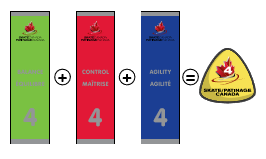 How to dress for the ice:
long waterproof pants
waterproof mittens (NO hockey gloves)
warm jacket
No elbow pads, knee pads, or hockey gear
Equipment you will need:
Lace-up skates (we DO NOT recommend "Adjustable or Expandable" skates)

A CSA-approved hockey helmet. A cage is recommended but not required. Please read Skate Canada's helmet use policy
2022-2023 Season
Some ice times may be cancelled and changed to accommodate the number of skaters registered. Make-Ups for Missed Classes: Skaters sign up for a specific session and cannot be accommodated on another session if they must miss a day unless prearranged with a coach.
---
Summer
Summer
1st Session

July 3-7 and July 10-14, 2023

Day
Time
Cost*
Monday to Friday - small ice

9:30-10:15 AM

$187.50
Monday to Friday - small ice
10:15-11:00 AM

$187.50
Monday to Friday - large ice

4:00-4:45 PM

$187.50
Summer
2nd Session

July 17-21 and July 24-28, 2023

Day
Time
Cost*
Monday to Friday - small ice

9:30-10:15 AM

$187.50
Monday to Friday - small ice
10:15-11:00 AM

$187.50
Monday to Friday - large ice

4:00-4:45 PM

$187.50
Add Additional Fee - Per Skater*
Skate Canada's annual membership fee of $44.00
(non-refundable and non-transferable)
INDIVIDUAL MEMBERSHIP
Annual Membership year - September 1 - August 31 (you will pay only once during a season, no matter how many sessions you register for).
When you/your child registers for a skating program at our club, you also become a member of Skate Canada, the national sport governing body for figure skating in Canada. Many advantages go with a Skate Canada membership, such as accident insurance, access to Skate Canada programs and materials, participation in interclub and invitational competitions and special member prices on merchandise from the online store.
Please note that your skater's information will be shared with Skate Canada through this website.
This fee does not stay with the club but is sent to Skate Canada in Ottawa. For more information about Skate Canada, visit www.skatecanada.ca.
ALL FEES ARE QUOTED IN CANADIAN DOLLARS