As of September 20, 2021, the Lake Bonavista Community Association (LBCA) will require proof of vaccination for anyone 12 years of age and over to enter the facility. This includes skaters, parents and coaches.
You may also provide a negative (privately paid) COVID-19 test taken within 72 hours.
You will be required to show this every time you enter the rink. Stations will be set up and monitored at the EAST entrance of the facility during all operating hours. All
other doors will be closed.
STAR Assessment
The Skate Canada STAR consists of STAR assessments, STAR competition categories and supplementary events.
STAR 1 – Gold Assessment Structure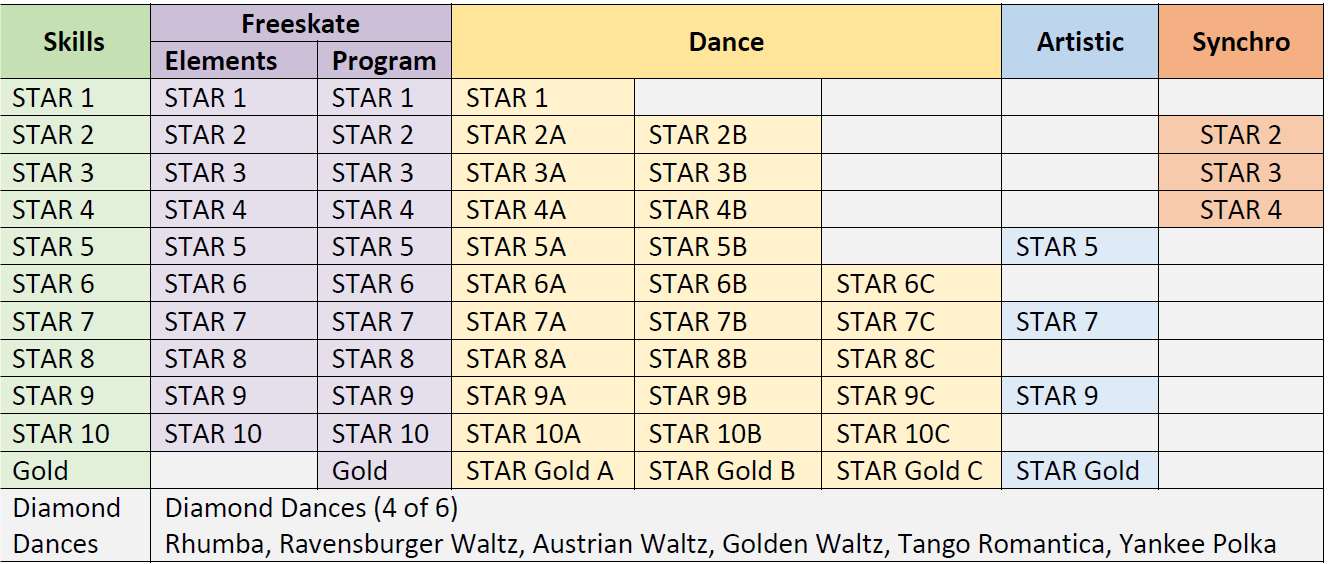 STAR 1-5 assessments are coach assessed and include Skills, Freeskate and Dance
STAR 6-Gold assessments for Skills may be coach assessed or Evaluator assessed.
STAR 6-Gold assessments for Freeskate, Dance and Artistic are Evaluator assessed.
---
STAR 1-5 Assessment Payment
The fee for the assessment is $12 per assessment. This fee must be paid PRIOR to the assessment.
Your coach will be checking to ensure payment is made prior to the session. If payment has not been made, the coach will not be able to perform the assessment that day and your child will need to wait until the next assessment day is scheduled.
---
STAR 6-Gold Assessment Payment


---
STAR 6-Gold Assessment Payment - Out of Club
You do not need a PayPal account to make your online payment.
Please select your club name and add skater(s) and coach name.
If you are paying for more than one skater at a time, add "all skaters" to the "Skater full name". You can increase the number of assessments after you "Add to Cart".

Paying for more than 1 test? You can add more after you "Add to Cart".
---
What is a Triple or Quad Gold Award?


The Alberta Figure Skating Foundation awards skaters who have achieved the triple/quad gold status. To learn more about this award go to https://albertafigureskatingfoundation.ca/?page_id=2