As of September 20, 2021, the Lake Bonavista Community Association (LBCA) will require proof of vaccination for anyone 12 years of age and over to enter the facility. This includes skaters, parents and coaches.
You may also provide a negative (privately paid) COVID-19 test taken within 72 hours.
You will be required to show this every time you enter the rink. Stations will be set up and monitored at the EAST entrance of the facility during all operating hours. All
other doors will be closed.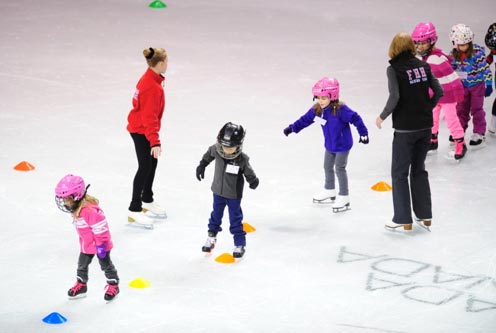 CanSkate Summer School
What is CanSkate?
CanSkate is a dynamic learn-to-skate program that focuses on fun, participation and basic skill development. Based on Sport Canada's long-term athlete development (LTAD) principles, CanSkate centers on physical literacy and the fundamental skills needed to take part in any ice sport or to skate as a recreational activity.
Who's it for?
For beginners of all ages, as well as for those wishing to improve their basic skills whether their focus is on figure skating, hockey, ringette, speed skating or just skating for fun.
Who teaches it?
NCCP-trained professional coaches, assisted by trained program assistants.
What will you learn?
A complete series of balance, control, and agility skills taught in six stages of learning that pertain to hockey, ringette, speed skating and figure skating as well as general recreational skating. CanSkate uses nationally-tested and proven curriculum and delivery methods that guarantee skater success in developing stronger basic skills and developing them faster.
Schedule - 2021 - Small Ice Surface
First Session
July 5 – July 9 and July 12 – July 16 (2 weeks)
Monday to Friday | 10 lessons | $120.00
1A - 9:30 - 10:15 AM
1B - 10:30 - 11:15 AM CANCELLED

Second Session
July 19 – July 23 and July 26 – July 30 (2 weeks)
Monday to Friday | 10 lessons | $120.00
2A - 9:30 - 10:15 AM
2B - 10:30 - 11:15 AM
Skaters must be 4 years of age by start date of the program.
LBFSC reserves the right to change the schedule, if necessary, to provide an appropriate level of instruction. Insufficient enrolment will result in cancellation of the program and refunds will be processed.
ALL FEES ARE QUOTED IN CANADIAN DOLLARS