IT IS MANDATORY TO BOOK ICE BY THE PACKAGES OFFERED BELOW

Printable PDF


Qualifications
STAR 1-5
INTERMEDIATE passed Junior Bronze Freeskate
SENIOR, PRE-JUVENILE, JUVENILE passed Senior Bronze Freeskate or portion of a test


Skaters must register according to Freeskate qualifications. The Summer School Director reserves the right to place skaters in appropriate sessions.
Fees
LBFSC Members
$30 LBCA Membership fee (July 1, 2018 - June 30, 2019)
Out of Club Members
$30 LBCA Membership fee (July 1, 2018 - June 30, 2019)
$25 LBFSC Summer Membership fee
Pick-Up Ice Fee
$17/hour
Contact the Summer School Director, Leigh Cowley, for prices not listed.
Discounts
Skaters registered on or before May 15, 2018, will receive a 10% discount on ice fees.

Register for a 4-week package and pay for only 3 weeks.
You get 1 week free!
Week 5 is not included in discount.

**Out of Club members are not eligible for any discounts**
Payment Schedule
LBFSC members have priority to register until May 15th. After that date, spaces will be allocated in the order that registrations are received.
You may choose to pay ice fees in two installment payments online by credit card ONLY.
FIRST PAYMENT: due May 15, 2018
SECOND PAYMENT: due June 15, 2018
All other fees are due at time of registration.
Refund Policy
A $35 administration fee will be applied to all refunds when canceled prior to June 1, 2018. After June 1 there will be no refund unless accompanied by a medical certificate and these refunds will be subject to a cancellation charge of 20% of the fees paid. THERE WILL BE NO EXCEPTIONS.
Summer School Schedule
Week 1 July 2 - July 6
Week 2 July 9 - July 13
Week 3 July 16 - July 20
Week 4 July 23 - July 27
Week 5 July 30 - August 2 (not part of the 4 for 3 discount)
Tentative Test Day - July 26 or July 27
(Depending on availability of Evaluator)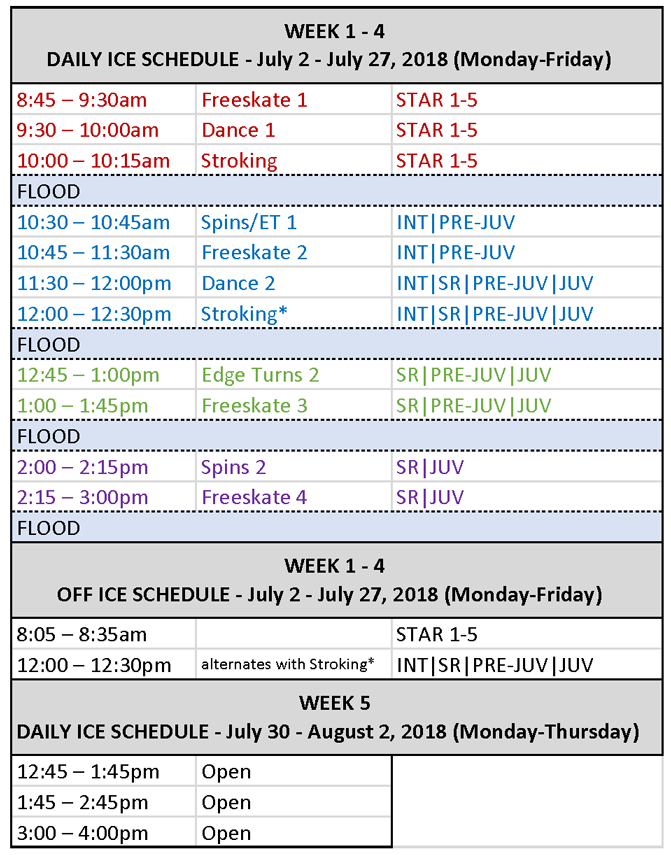 Social Function
Picnic at Glennfield Picnic Site in Fish Creek Park – Area B - Centre, Thursday, July 19, 2018 (cost included in registration)