This section is a global section that will be seen on all pages
STAR Assessment
The Skate Canada STAR consists of STAR assessments, STAR competition categories and supplementary events.
STAR 1-5 assessments are coach assessed and include Skills, Freeskate, Artistic and Dance.
STAR 6-Gold assessments for Skills may be coach assessed or Evaluator assessed.
STAR 6-Gold assessments for Freeskate, Dance and Artistic are Evaluator assessed.
STAR 1 – 5
Assessments at the STAR 1-5 level are designed to support skater development within their own environment and remove barriers such as extra costs, inconvenience and time constraints.
STAR 6 – Gold
Assessments at the STAR 6-Gold level are offered in an "external evaluation" environment (i.e., assessed by an evaluator), apart from Skills that may be assessed by either an evaluator or the skater's qualified coach assessor. This new program replaces the former Senior Bronze, Junior Silver, Senior Silver, Gold categories which are now phased out.
Evaluators
Evaluators who have achieved the identified qualifications per discipline, may assess skaters.
Coach Assessors
STAR 1-5: Coach assessors shall assess skaters they are actively developing in each discipline.
STAR 6 – Gold: Coach assessors may only assess the Skills discipline. They may only assess skaters they
are actively developing in this area.
The Assessment Sheet
Assessment sheets are colour coded to identify each discipline at a glance.

The Artistic Attire Requirements
Simple attire is recommended for Artistic events. This may include pants, skirt, dress, leggings, etc. with no excessive beading or design.
What is Assessment Day?
Skate Canada's NEW Assessment day is where the skater's progress is measured. It is a separate day that is outside of the regular practice sessions. A Skate Canada evaluator comes to the rink to perform evaluations on the skaters in the following four disciplines: SKILLS, FREESKATE, DANCE AND ARTISTIC (formerly Interpretive).
Overview STAR 6-Gold Assessment Content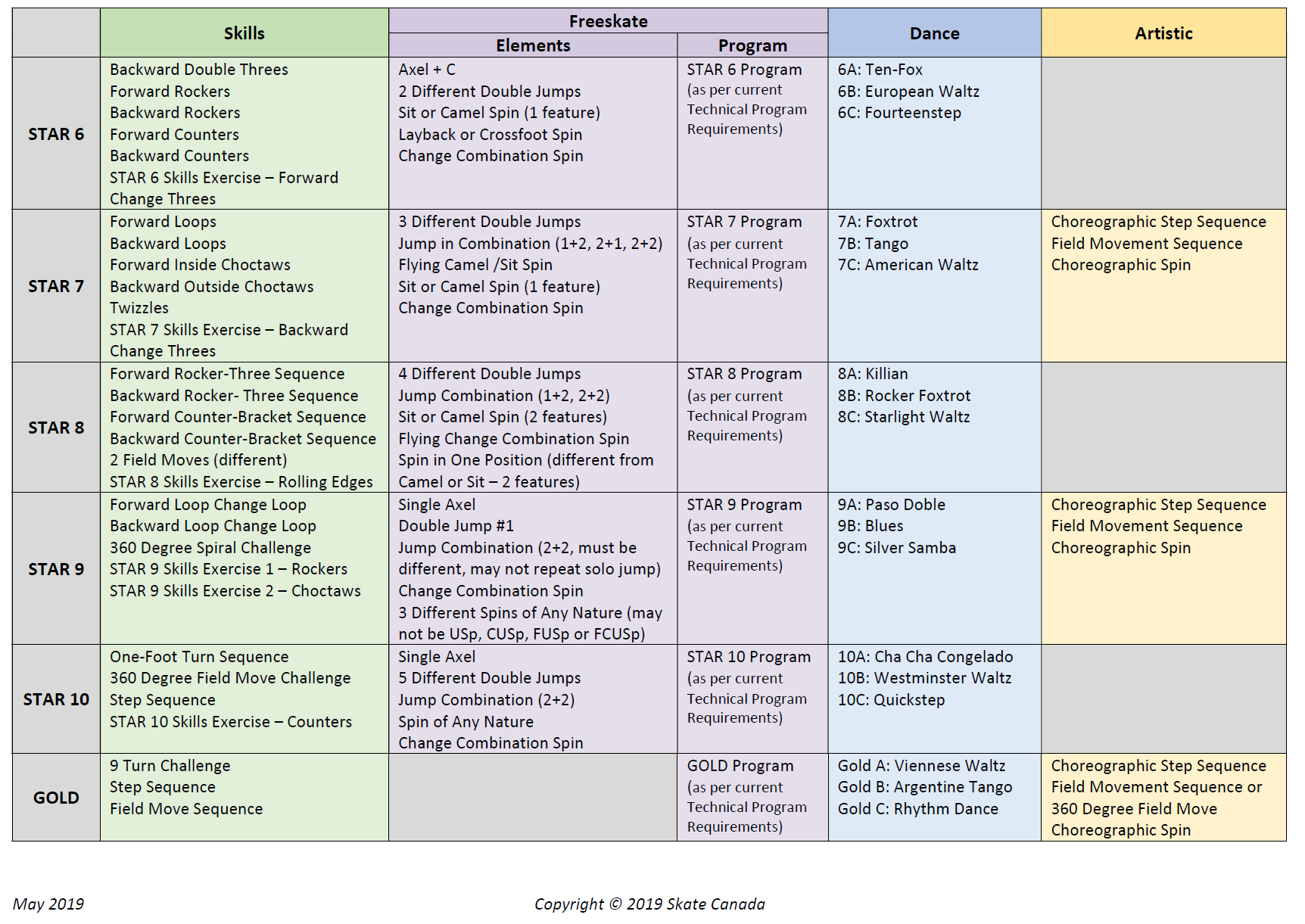 What is a Triple or Quad Gold Award?
The Alberta Figure Skating Foundation awards skaters who have achieved the triple/quad gold status. To learn more about this award go to https://albertafigureskatingfoundation.ca/?page_id=2
When are Assessment Days?
Normally in Nov/Dec, Feb, Mar, April and one in Spring and one in Summer depending on the availability of evaluators, and may be during school hours, requiring a skater to miss school. Please refer to the Calendar for more details.
Who may be evaluated?
The coach determines whether the skater is ready to try a Skate Canada STAR 6 - Gold Assessment. The skater's name gets posted on a list 2 weeks prior to the test day. The rule is: once posted, the skater is obligated to be assessed and to pay the Skate Canada Assessment Fee. Skate Canada will only accept medical reasons or withdrawal due to inclement weather and the Skate Canada Fee portion of the Evaluation Fee will be refunded; all other reasons get marked as a re-try with no refunds allowed.
Assessment Payment
Assessment fees will be communicated approximately 10 to 14 days prior to the test day.
Payment of Assessment Fees must be made prior to testing on our website. You may choose a credit card, Visa debit or use any available gift certificates that you may have. CHEQUES/CASH are not accepted. The Dance Partner Fee is a separate payment. This is between you and your coach and is paid to the coach. Assessment Fees and the Dance Partner Fee need to be paid prior to the test being taken. Skate Canada stipulates that all test fees must be paid in advance.
What happens on assessment day?
Most importantly, ARRIVE AT LEAST 45 MINUTES prior to the scheduled assessment time. We may run ahead and often do. Immediately at arrival, check the Schedule, and determine whether the times are ahead on-time or behind. Avoid panic!
What to wear?
The skater must be dressed appropriately. The coach will advise the skater on what is expected. Gloves and a warm-up jacket are allowed during warm-up, make sure they can be easily removed for the actual test.
Music Room
The music room is restricted to the Assessment Coordinator, volunteers, coaches, and the evaluator.
Results
Results are distributed approximately 30 minutes after the assessment. The results are given to the coach who will review them with the skater. Although LBFSC and Skate Canada keep records of the results, they do not keep copies of the actual assessment sheets so please keep these for your own records as they cannot be reproduced.
The coach is the only person allowed to discuss the results with the evaluator.
Inevitably there will be times where tests are not successful and require a 'retry'. It is important to be supportive of the skaters regardless of the result.
Withdrawal of Candidate
Any skater who must withdraw due to unforeseen circumstances may do so without penalty.
Please Note: If a skater is unsuccessful with an assessment, it is recommended they wait a minimum 24
hours before their next attempt of the same assessment.
How can you help?
We need some volunteers to bring snacks or food for the evaluators, to play the music and help where needed. You can sign-up when the Volunteer Coordinator sends an e-mail notice asking for volunteers.

This is an assessment environment; ensure that all skaters are respected by family and friends who are watching in the stands. Stay clear of the door used by skaters, coaches and dance partners. Videos and cameras are allowed, but please do not distract the skaters and never use flash photography.

Finally, join us in being proud of our skaters on test days!